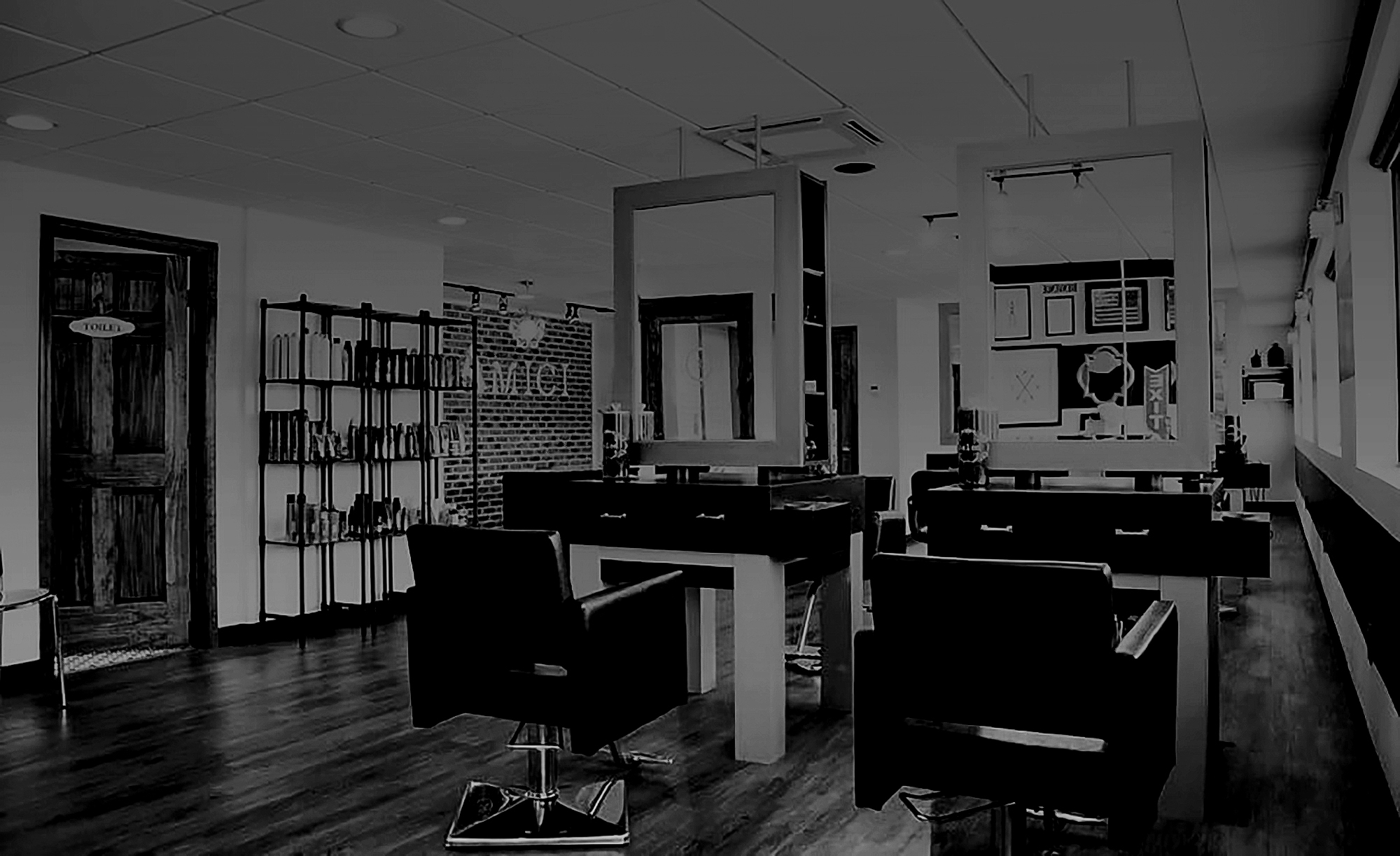 Full Service Salon
We work hard to create an environment that's comfortable, friendly, and upscale.
About
Bella Amici Salon is a full service salon that opened in 2010 by owner Katie Aiello McCusker. For the past 9 years, our entire staff has aimed to provide not only quality services, but also an excellent experience for our guests. We are always striving to maintain a very relaxed atmosphere where clients can get pampered and rejuvenated by a team of talented professional stylists.
We are so grateful to be part of such a great community and want to thank you all for your support.
From all of us here at Bella Amici, we look forward to seeing you soon!
Phone
724.863.2441
Location
9173 Route 30
Irwin, PA 15642
Hours
M-Th 10a–8p
F-Sa 10a–4p
Su closed
all prices are starting at & subject to change
| | |
| --- | --- |
| women's haircut | $28 |
| men's haircut | $18 |
| kid's cut (0-5) | $10 |
| girl's cut (6-9) | $14 |
| | |
| --- | --- |
| girl's cut (10-12) | $23 |
| boy's cut (6-9) | $12 |
| boy's cut (10-12) | $15 |
| | |
| --- | --- |
| full color | $62 |
| color retouch | $50 |
| partial highlights | $60 |
| full highlights | $75 |
| | |
| --- | --- |
| lowlights | $10-15 |
| double process | $75+ |
| ombre/balayage | $100+ |
| corrective color | upon consult |
S m o o t h i n g / C o n d i t i o n i n g
| | |
| --- | --- |
| keratin treatment | $60 |
| olaplex stand alone treatment | $50 |
| olaplex add-on | $25 |
| | |
| --- | --- |
| SOS extreme recovery treatment | $25 |
| customized booster treatment | $20 |
| | |
| --- | --- |
| blowout | $20 |
| go-out blowout | $25 |
| add-on extensions | $15 |
| | |
| --- | --- |
| bridal updo | $65 |
| formal style | $55 |
| trial bridal updo | $40 |
A Q U A H A I R E X T E N S I O N S
| | |
| --- | --- |
| aqua hair extensions | upon consult |
| | |
| --- | --- |
| traditional application | $65 |
| airbrush application | $75 |
| | |
| --- | --- |
| trial makeup | $50 |
| strip lashes | $12 |
Classic Lash Extensions
| | |
| --- | --- |
| full set | $100 |
| 2 week fill | $50 |
| 3 week fill | $60 |
Hybrid Lash Extensions
| | |
| --- | --- |
| full set | $120 |
| 2 week fill | $60 |
| 3 week fill | $75 |
Volume Lash Extensions
| | |
| --- | --- |
| full set | $150 |
| 2 week fill | $70 |
| 3 week fill | $85 |
Other Services
| | |
| --- | --- |
| lash lift | $60 |
| lash tint | $20 |
| lash lift and tint | $75 |
Natural Nail Services
| | |
| --- | --- |
| manicure | $18 |
| gel manicure | $28 |
| gel manicure with gel removal | $35 |
| gel removal with mini manicure | $25 |
| basic pedicure | $38 |
| gel pedicure | $50 |
| gel pedicure with gel removal | $55 |
| polish change | $12 |
| nail art | $5+ |
Acrylic Nail Services
| | |
| --- | --- |
| full set acrylic | $45 |
| full set with gel polish | $55 |
| acrylic fill | $25 |
| acrylic fill with gel polish | $35 |
| full set pink and white | $55 |
| pink and white fill | $32 |
| pink fill | $25 |
| acrylic removal | $35 |
| nail repair | $3 |
| | |
| --- | --- |
| eye & lip | $12 |
| brazillian | $75 |
| brazilian touch up | $50 |
| bikini | $25 |
| | |
| --- | --- |
| french bikini | $35 |
| back | $75 |
| buttocks | $40 |
| armpit | $25 |
S K I N T R E A T M E N T S
| | |
| --- | --- |
| facial (60 min) | $70 |
| facial (90 min) | $85 |
| quickie facial (30 min) | $45 |
| manhandler facial (30 min) | $45 |
| | |
| --- | --- |
| back facial (50 min) | $75 |
| dermaplaning | $70 |
| 24k gold hydrojelly mask add-on | $20 |
Traditional Massage
| | |
| --- | --- |
| 30 minute | $35 |
| 60 minute | $65 |
| 90 minute | $85 |
CBD Oil Massage
| | |
| --- | --- |
| 30 minute | $45 |
| 60 minute | $75 |
| 90 minute | $105 |
C U P P I N G T H E R A P Y
CALL TO SCHEDULE AN APPOINTMENT
724.863.2441
HOURS
M-Th 10a-8p F-Sa 10a-4p
Sun closed
Location
9173 Route 30 • Irwin, PA 15642
salon located on 2nd floor